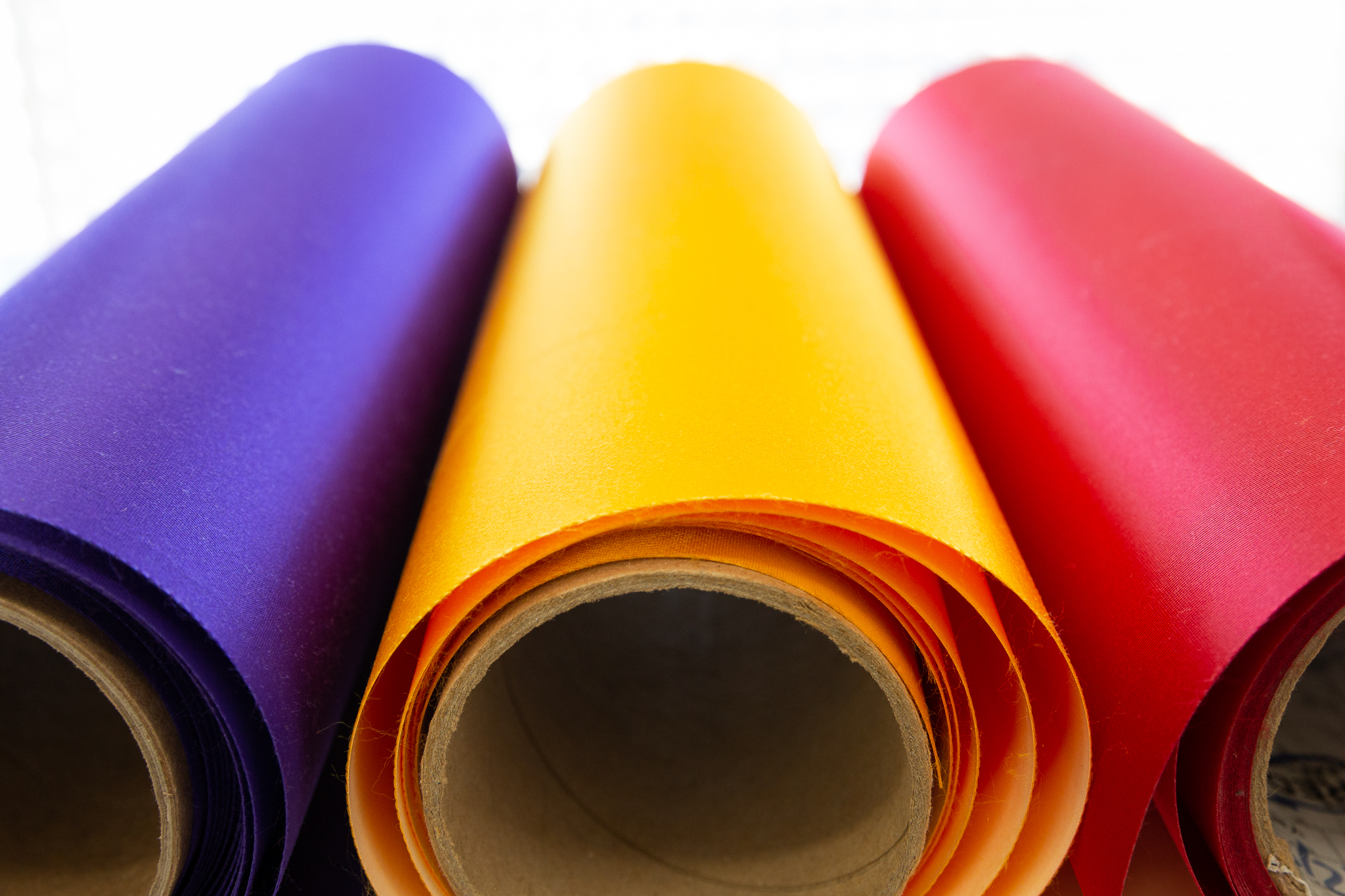 Modern Heat Press Solutions
Home » Services & Imprint Methods »
What is a heat / vinyl transfer?
Transfers are ideal for small orders, full color printing, special bling, metallic looks, and more. Transfers are super vibrant and very durable.
"Heat transfer" refers to a variety of processes where we print your image on a special type of paper, then use a heat press to "transfer" it onto your t-shirt or other garment.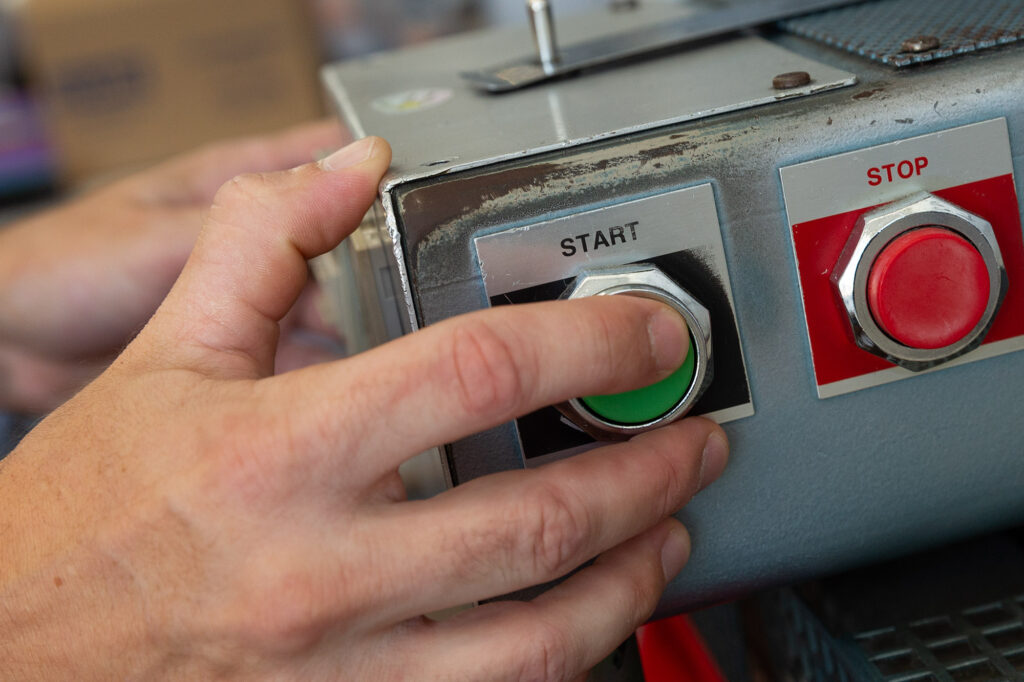 Vinyl transfers are soft and thin, look like a screen print, and last even longer – usually longer than the shirt itself!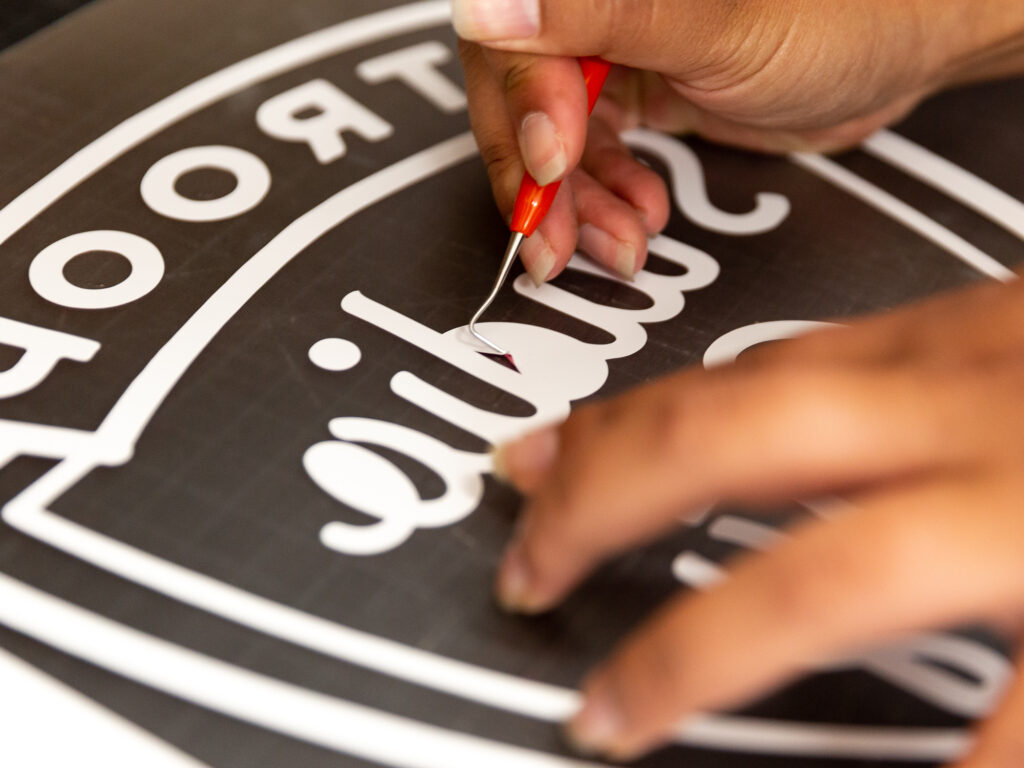 A computer-controlled plotter – a machine similar to a printer, but with a blade – cuts out the shape of your design.
We then "weed" out any extras (like the little half-circle inside an "e") by hand. This takes skill and time.
Finally, we apply it to your shirt using a professional-grade heat press. Vinyl transfers work great on cotton, poly, and cotton/poly blend materials.
"Weeding" vinyl refers to the tedious process of removing, by hand, anything that isn't part of the final design.
Once the design has been cut into the vinyl – and the extra bits weeded out – the design is carefully placed to be heat pressed onto the garment.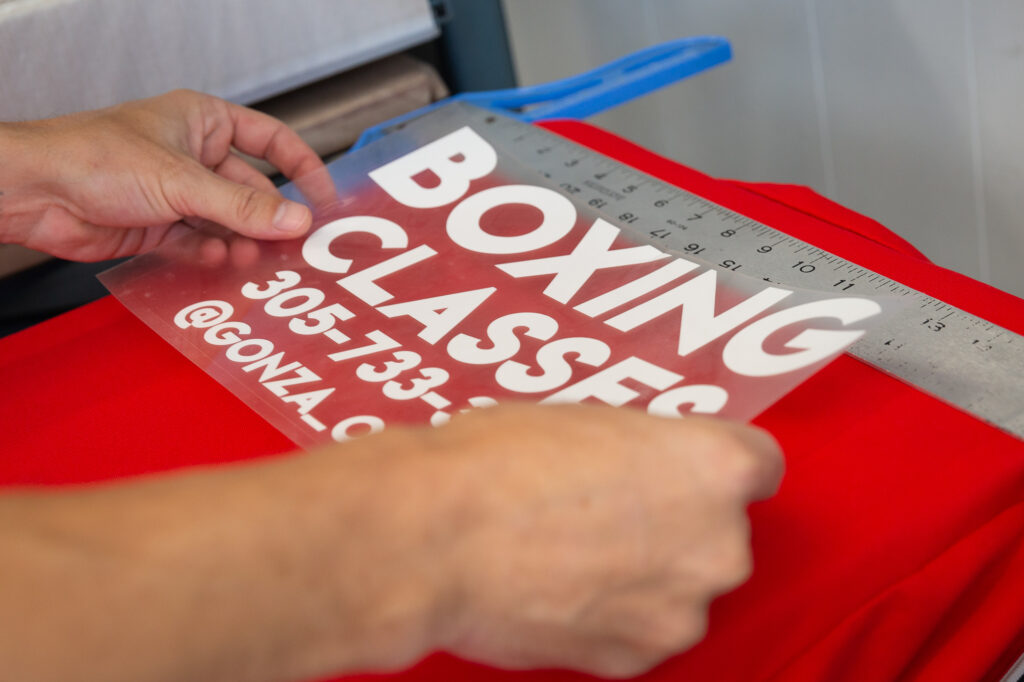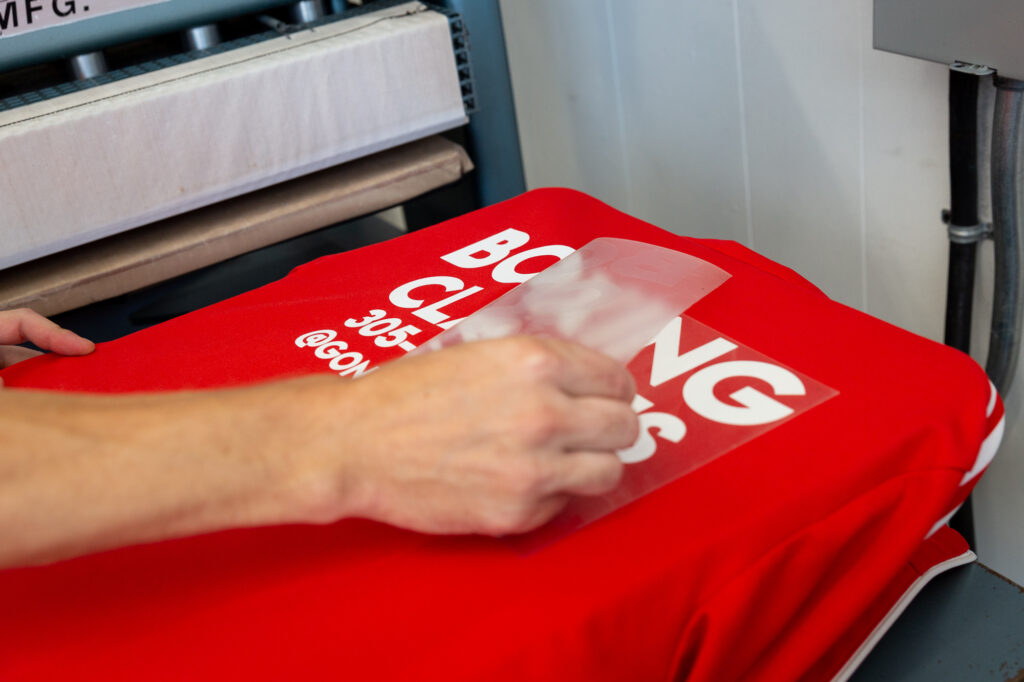 After we heat press, the "carrier" material can be removed, leaving the vinyl design on the garment.
We offer a few dozen colors, along with some specialty options like bling / glitter, sparkle, and some gold and silver chromes.
Other types of transfers
Digitally Printed (Full-Color) Vinyl Transfers
This is a full-color method of doing a vinyl transfer. We print a full-color image onto a soft, thin vinyl transfer material that is then CAD-cut to the design's shape. We weed out the parts you don't want on your shirt and press it with a professional-grade heat press under precise pressure.
These transfers will usually last as long as the garment, though the full-color print itself is subject to abrasion – for example, if you wash and dry hoodies with metal zippers, over time the print will get diminished from these repeated little impacts.
We have full-color transfers that work on cotton, poly, nylon, and blends.
Screen printed transfers
These are less common because we typically just screen print directly onto your garment, but there are a few uses for them:
Caps. It's tough to mount caps onto the screen printing presses due to all the competing curves on the hat. In these cases we often use a screen printed transfer.
Other unusual items that don't fit on screen printing presses well.
We screen print one or more ink colors onto a special transfer paper in reverse then apply them with heat and pressure to your garment. The garment must be able to tolerate direct heat (some poly and other synthetic fabrics might melt in a heat press), so talk to us about items that are not 100% cotton.
FAQ: Can I iron on transfers Imprint Revolution makes for me?
In short, no. The high quality transfers we use require a professional grade heat press to work properly. In theory, some could be applied with an iron, but we strongly recommend against it, and we cannot guarantee the quality or the longevity of transfers applied this way.
This vinyl transfer process is a great choice for most one-color graphics on a small quantity order.
How do I order?
Pricing is based on:
Number of items in the order
Number of print locations (ie, chest, sleeve, etc)
Complexity of designs (skilled manual labor is required to prep your design for application)