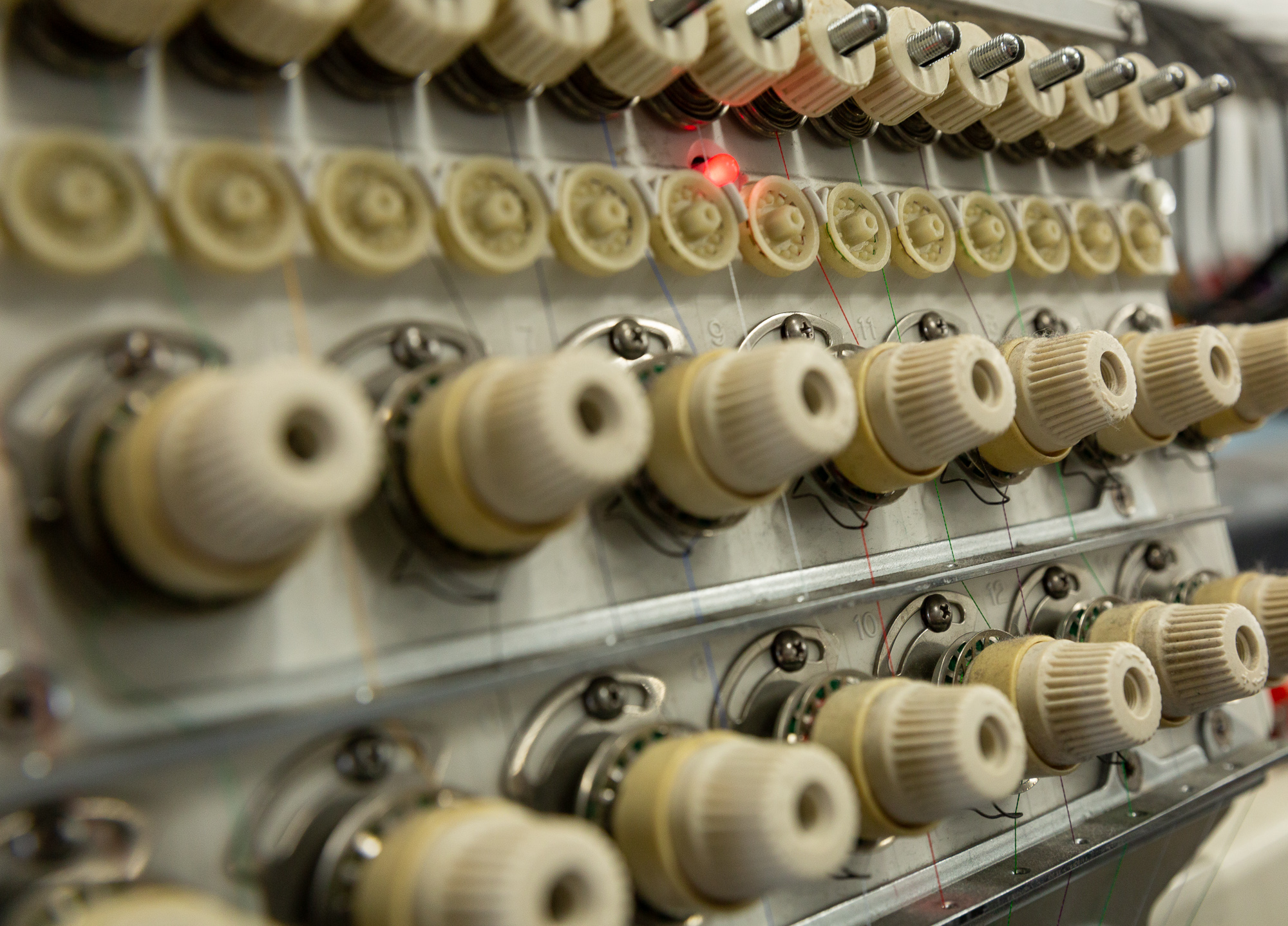 FAQs
Home » Help »
Here are some frequently asked questions. Please contact us if you have a question that you don't see answered here!
Is there minimum order size?
We offer very low minimums on most items. For most projects, 24 items is the minimum order. If you need samples, please get in touch so we can help you out!
How should I prepare my artwork?
Are your inks eco-friendly?
Short answer: yes. Want a longer answer? Read on!
Plastisol
We are interested in doing our part to preserve this beautiful planet. Part of that means being sure whether we are contributing to "green washing" (supporting green hype that's not grounded in facts). We use a type of ink called "plastisol", and while we offer water-based ink, we take the position that water-based ink is less eco-friendly than plastisol.
Water-based ink
We can use discharge and water-based inks for you, the cost is just a little higher. The industry calls water-based ink eco-friendly, but I think they are not, really. This is why:
Water-based ink is not some organic, naturally-occuring thing like fruit. It still has a Material Safety Data Sheet (MSDS), it still can't be poured down the drain safely/legally, at least in the state of California. It doesn't have components classified as hazardous, but it's not exactly something you'd want to drink.
Discharge is more noxious to work with than plastisol, so it's not as friendly to the health and comfort of the workers who do the printing for you.
The colors fade faster in the wash. Arguably, this makes the life the garment shorter. If you figure it lasts only ¾ as long, that means that for every 3 plastisol shirts you make, you'll make 4 water-based shirts, if you're keeping your customer clothed over time.
The mass of the final product is more than 95% shirt, less than 5% decoration. (Realistically, especially if there's no underbase, this is more like 99.5% vs 0.5%.) Considering the shirt-longevity issue from #3, you're creating more landfill waste with water-based ink than with plastisol. If you want to make a positive ecological choice with your shirt, the garment is where the impact is. Consider organic, local, and long-lasting garments.
Water-based inks have an incredibly short shelf life, so we end up throwing them out with some regularity. Plastisol lives for years, even unsealed, so we waste almost none of it.
Water-based ink on colored shirts requires discharge, so you are relying on the color of the underlying cotton for your color base. Cotton is not consistent in color, so exact color matching from job to job, even from shirt to shirt (including the same brand/style) is simply not possible with this medium.
Soy-based ink
There are some soy inks on the market, but at this point they don't actually work on garments. We are hopeful that someone will develop an ink that will last on garments and actually be more eco-friendly than plastisol, but it's not on the market yet.
Can you print on-site at my event?
Sorry, we're not able to do offsite events anymore. Contact us about creating special items for your event (usually this is MUCH more cost-effective, and opens up your options quite a lot).
Do you offer fulfillment services?
Yes, we can! Fulfillment consultation begins at $180/ hour. Please prepare your three month order history packet so we can schedule a time for consultation.
If you're a new company, we recommend fulfilling your own orders to start. This will allow you to figure out what shipping methods, packaging, refund policies, fulfillment days and customer management systems you'd like to use.
For example, Zappos did not think about fulfillment services until they had about 500,000 in inventory. (Delivering Happiness, by Tony Hsieh)
Do you offer any specialty printing like foil, discharge, or process printing?
Yes! We are equipped for specialty screen printing, including:
foil
puff
water-based / discharge
glow-in-the-dark
other specialty options
Please send your design and the number of shirts desired so we can create a custom quote and mockup for you.
Do you offer rush service?
Yes! Rush pricing depends on your project and our availability. In some cases we can complete your project while you wait!
Please send your artwork, what type of shirts / items you'd like printed, and when you need them so we can create a custom rush quote for you.
For the exact rush fee for your project contact us.
Please remember that rush turnaround (and related fees) start from the point when we have a complete order. This means:
All garment styles, sizes, colors and quantities selected.
Final art, colors, and design placement approved.
Payment arranged (usually this means a credit card number, but other options are available).
Rush fees
Rush fees are on a sliding scale based on how much time we have to work on the project. Rush fees are not a penalty, they reflect actual costs we incur by pushing off work in our queue in order to complete your order first.
Our rush service is a little like FedEx – the quicker you need it, the more it costs. Same day service is more than next day, and so on. Amount of work being done is also a factor, as well as what processes we're using (screen printing, embroidery, transfers, etc).
Rush fees are based on things like: size and complexity of your order, turnaround time, processes used, types of garment being embellished, current level of production in the shop, employee availability, etc. Rush fees will reflect the additional (mostly overtime) costs we must incur to get your job done on time.
How do I request you to sponsor or donate to my group?
As much as we would love to help everyone, we receive several requests daily.
We focus our charitable donations on a small number of organizations that we passionately want to support, most notably Our House and J3.
In limited situations we are able to offer a discount for certain projects, but we are unable to do blanket donations or sponsorships.
Can I bring my own items?
We strongly prefer to supply the items we are decorating. Our customers usually save money and time by having us source the garments, and the whole process goes more smoothly.
However, if you have an unusual item that we do not offer, we may be able to work with items you supply. There is some risk inherent in having your own items decorated: please review our Terms and Conditions.
Do you offer discounts for non-profits?
Most of our customers are non-profits and our pricing is structured taking that into account. We generally do not include additional discounts for non-profits.
Do you offer wholesale pricing on printing?
We have customers that re-sell several hundred thousand shirts each year. For a custom quote, please send over your three month order history packet. We will create a custom quoting chart for you, along with minimums required to remain in that pricing. We cannot give out wholesale pricing without receiving a three month order history packet. 
Do I have to pay the total up front?
Yes, we take full payment before beginning work on your order.
If you have already been placing orders with us consistently for several months and would like to inquire about terms, contact our accounting department to discuss the options.
Can I pay for my order over the phone?
Yes! Just have the invoice handy so we can match your payment to the correct order. 
I purchased an order last month and LOVED it! Can I re-order the same exact thing?
Yes! We keep files on file for five years and are always up for making more!
Can I order a sample first, before placing a large order?
Yes. This typically means we have a one shirt order and a separate larger order. A one shirt order typically costs more, as all the startup work will need to get done, but we'll keep cost as low as possible for you. 
What brands do you carry?
We carry most major brands such as Gildan, Next Level, Bella Canvas, American Apparel, Port Authority, and more. Call us to check if we have a specific style you're looking for.
Do I need to make an appointment?
No, appointments are not necessary, and usually there is no waiting if you come in.
Why should I choose you?
What makes Imprint Revolution stand out from other printing places?
We care! We also have the knowledge to give you the best advise and have superior printing capabilities. Come work with one of our trained graphic designers to bring your ideas to life!
Where can I park?
West LA: We have free parking in the lot behind us. Enter through the alleyway and we're the bright purple door. There's also parking along Pico, or Overland, but please read the signs to ensure you're able to park there at that time.
Mar Vista: Street parking is usually available in front of our store – just check street cleaning signs.
How do I order?
The best way to finalize an order is by stopping by one of our stores. The average in-store order takes about 15 minutes to finalize.
Finalizing an order means we have approved art, approved garments, approved invoice, and payment. Once the order is finalized, production time begins. Production times will vary depending on the specifics of the order.
For more information about preparing your artwork / design, refer to our page about Artwork Specifications.
How much is it to print just one shirt?
How much is it to print just one shirt?
We have a 24-item minimum order for most projects. The cost will depend on the artwork and shirt style. The least expensive option for a single shirt is a left chest, Direct-to-Garment print, up to 5×5″, on a white Gildan cotton shirt. The cost for 24 in that example would be $11.99 each.
The more shirts you get like that, the lower the cost. For example, if you get 144 of that same shirt they'll only be $6.86 each.
Specialty items can cost more – contact us for more info.
Please contact us with your artwork, or stop by our store so we can create a custom quote for your project.
Can you print on shoes?
This may be possible depending on the shoes and the art. Please bring them in so we can see if they will load into the machines. (It may take a full business day to check if we can actually load the shoes into the machines.)
Do you only print t-shirts?
We can print on many other items! Hoodies, caps, bags, many others, and not just garments!
Drinkware, stickers, and totes are the next more popular items. The sky's the limit – need your logo on a fly swatter? A USB drive? Sunscreen? Avocado peelers, sharpies, mints, pedometers, etc.
Please send us an email with what you're looking for, so we can source it for you.
This online catalog shows just some of the many items we can customize for you: http://imprintrevolution.logomall.com/
What if I only want one shirt?
We have a 24 shirt minimum order. We can print as few as 24 shirts or as many as several thousand shirts for you. Please contact us with your artwork and desired shirt brand, style, color, and size, so we can create a quote for you. You can also stop by our store to work with one of our trained designers. 
In some situations it may be possible to create a sample, but this can be costly, as most print methods are designed for mass production. Contact us and we can help find the best solution for your particular situation.
Can you turn my logo into a patch?
This will depend on the logo, but if anyone can do it, we can. Please send the art and size so we can check to see if it's doable.
Can you print my fan art? TV characters? Pro team logos?
Copyright and Related Questions
As we mention in our terms, it is never our intention to print copyrighted designs or works without permission from the copyright holders.
You represent and warrant that you have the right to use all designs (including text) that you provide to us to decorate merchandise ("Designs"). You agree to indemnify us and hold us harmless for, from and against all claims of third parties related to claims related to the Designs and our placement of the Designs on merchandise, including but not limited to claims of infringement, defamation or slander.
What about fan art?
Essentially, anything from any book, motion picture, film, or television cannot be reproduced (printed) without express written permission.
Some key points about U.S. copyright law:
According to copyright law, copyright holders have the sole right to distribute derivative works based on an original creation.
When in doubt about copyright, the answer is no. "The key point to remember is this: Fan fiction and fan art are, usually, an infringement of the right of the copyright holder to prepare and license derivative works based on the original. This is almost without exception." This is discussed more thoroughly here:
https://www.plagiarismtoday.com/2010/05/13/the-messy-world-of-fan-art-and-copyright/
As a business, we cannot legally print copyrighted material (for any purpose – personal use, donation, display, gift, sale, anything), even if we personally suspect the copyright holder wouldn't mind, or that it's a small project etc. We've had colleagues shut down for small infractions, and we can't take the risk.
What about parody?
Parody is protected in a limited way. However, it's up to a judge to determine whether something is parody. Since none of our staff is a judge, or even an attorney, we have to be safe and assume that a judge's defniition would be very, very narrow. So, in most situations, we're not able to print parodies of copyrighted art. Sorry, we don't make the laws.
What if I'm not going to sell it?
A common myth is that it's okay to print or share copyrighted material as long as it is not for sale. However, this has no impact on the legality of the matter. We cannot legally make one shirt for a gift for your friend if it's got a copyrighted character on it. Even if you drew the character by hand. It's still derivative work in the eyes of the law (or at least enough judges that we can't take the chance).
What file types do you accept?
We can work with a wide array of file types. Typically, vector files, such as from Adobe Illustrator (with outlined text) or high-resolution Adobe Photoshop files are preferred. Please send us what you have and we'll adjust as needed.
For much more information refer to our Artwork Specifications page.
If you don't have vector art, in most cases we can convert your art for a small fee.
Can you help me make a design?
Yes! Everyone on our staff is a trained graphic designer. Please stop by one of our offices so we can create something amazing together!
How long will it take to get my order?
Screen printing and large embroidery orders typically take about 7-10 business days.
Standard production time for vinyl transfers, direct-to-garment (DTG) printing, and dye sublimation orders is typically one week for small orders.
Rush service is available for most orders! Check here or contact us for more information.
What styles of printing do you offer?